Archives by date
You are browsing the site archives by date.
In honor of the 2010 WordCount Blogathon, which starts tomorrow, this edition of my weekly roundup of good reading and writing is devoted to blogs on blogging.
Give blog posts that didn't get enough traffic the first time around a second chance as a "best of" post, either by itself or in a compilation.
If you're devoting more time to blogging, you risk eating into time spent on other work or your non-work life. Here are 10 suggestions for how to do it all.
If you're looking to blog more, you have to cheat – as in take shortcuts. Here's how to beg, borrow and steal your way to be a more productive blogger.
The 2010 WordCount Blogathon starts May 1 – here's your guide to a month's worth of blogging fun.
The Center for Plain Language, AP style v. SEO and other recommended reading for writers for the week of April 23, 2010.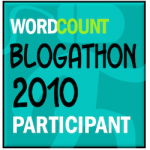 To mark WordCount's 3rd annual blogathon, we're giving away coaching, software and other fabulous prizes to writers who commit to blogging the entire month of May.
Online banking's been around for years, so why do so few publications pay contributors electronically?
This American Life's "Eat My Shorts" program and the 2010 Pulitzer Prizes are my recommended reading for the week of April 16, 2010.

As my new blogging gig at SecondAct.com goes live, I'm like a new mom, nervous I won't have enough time and love to go around.