Sign up today for this free community blogging challenge to post every day in June. Read this to find out more.

A Canadian writer explains how the event jump started his freelance career in this first in a weekly series of Blogathon success stories.

The WordCount Blogathon is back — it's happening in a different month, but it's still the same blog-building challenge you know and love.
Congratulations, you've started a blog. Here's how to make sure it's a winner.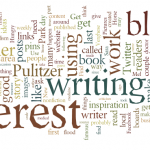 The official calendar for the annual blogging challenge that start on May 1. Use this list to plan a month's worth of posts.
Sign ups are here for the 5th annual challenge to blog every day in May. It's free, it's fun, and if you go all the way, you could win blogging-related prizes.
The annual month-long community blogging challenge returns in May. Not sure what it entails? Get all the details here. Registration opens in March.
At the end of May, when enthusiasm for the WordCount Blogathon was running high, I was persuaded by bloggers who'd loved the experience to consider holding another event. I agreed, and announced plans for a mini-blogathon to take place in November. Time passed. And while I'm no less enthusiastic about blogging, this blog and the [...]
Would you post every day during May if you knew you could win a prize for doing it? Here's hoping you do, because the 2011 WordCount Blogathon once again includes a raffle drawing of writing-related prizes that anyone who makes it through the entire month could win. Some of those prizes include free hosting for [...]
Here are the winners of more than $1,200 in prizes given away to randomly selected participants of the 2010 WordCount Blogathon who posted every day in May.