Thoughts and links on freelance success from today's SABEW teleclass.

One-hour class is sponsored by SABEW and features Creditcards.com editor, two experienced freelance business writers, and me.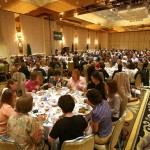 You paid big bucks to attend a writers conference. Here's how to make sure you get your money's worth.
Freelancers share practical tips for getting deadbeat clients to pay up.

Highlights from Freelancers Union webinar on tax advice for freelancers, other self-employeds.

You can have fun with numbers. Laura Laing, author of the new book Math for Writers, explains how.
HHS Secrectary Sebelius is encouraging people to enroll in health exchanges by 3/31 deadline, including freelancers who may have done without in the past.

On March 12, the White House's health care chief will talk to a group of BlogHer bloggers about exchanges and the new law. What do freelancers want to know?

Learn how two writers with two very different specialties earned extra income selling article reprints.

Sheryl Sandberg's empowerment organization teamed up with Getty Images on a catalog of 2,500 photos showing women in leadership roles in work and life.