Use other people's time off to get a jump on your own business. Here's how.

They say summer in Portland doesn't really start until July 5. I've got a different way of telling and it has to do with #blog2013.
Ideas for stories can come from anywhere — and everywhere. Here are some of my favorites.

Understand what it is, find a niche, research potential clients, and other advice from pro content marketing writer Jennifer Gregory.

Make a list, set a timer, turn off distractions, work more hours — and other tips for gettting work done when you're under the gun.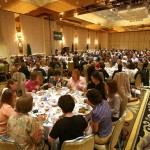 You paid big bucks to attend a writers conference. Here's how to make sure you get your money's worth.

This year, after I pulled together my return I took another to see what it could teach me about my writing business. Here's what I learned.

Mridu Khullar Relph explains why freelance writers need to take a cue from entrepreneurs to think and act like the small business operators that they are.

The 10-year-old group represents more independent workers than any other organization. But what you don't know about them may surprise you.

If you're self-employed, saying no to new projects can be hard. These tips from writer Kate Harold will make it easier, and help you decide when to say yes.