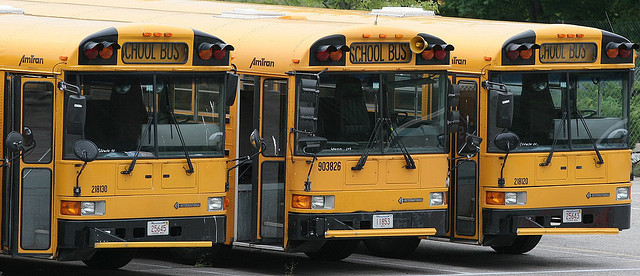 When the school doors open this morning at 8 a.m., I don't know who'll be more excited, my sixth grader or me.
I work from home, so summer break means the tranquil workspace that's all mine nine months of the year turns into activity central, with my middle school son, his college-aged brother and sister and their friends in and out all hours of the day and most of the night. No wonder I've turned into a morning person, it's the only time it's quiet.
Back to school isn't just a date on a calendar for students. It signals the end of summer, when people return from vacation ready to plunge into new projects and start planning for next year.
As we head back to work after Labor Day, here are a few things freelancers can do to get ready for the rest of the year:
1. Research  new markets. If you took it easy over the summer, finished working on some long-term projects or lost a client over budget cuts, it's time to find out what else is out there. Good places to investigate: professional organizations such as the Specialized Interest Publishers Association, which represents subscription newsletters, and the American Society of Business Publication Editors.
2. Send letters of introduction.  Some editors would rather receive a letter of introduction than a pitch. In a LOI, explain who you are, what you specialize in, the type of writing or other work you're seeking, why you're qualified, and a summary of your relevant experience. Make it concise so the editor doesn't have to scroll through more than one screen to get to the end of your note.
3. Send queries. If your New Year's resolution was to pitch some new-to-you publications but you haven't acted on that yet, now's the time. Just make sure your queries are appropriate for the publication. Read more on what to do to make sure editors get back to you.
4. Follow up. Don't let your queries fall into a black hole. If it's been a couple weeks and you haven't heard anything – less time if your pitch is time sensitive – follow up by email, or if you know the editor, by phone. Let them know that you're wondering whether they received your query and if there's additional information you can send them about the idea or yourself.
5. Attend a conference. Nothing gets the creative juices flowing like going to a conference or seminar. There are a handful of great  writing and media industry conferences taking place this fall and winter, here's a complete list.
6. Clear out your inbox. I love an empty email inbox as much as the next person, but it's an easy to let it slide if you've been preoccupied with deadlines. Be ruthless; ask yourself, do I really need this? Can I get this information somewhere else if I need it? If you can't part with old emails, at least consider saving them in an archive folder or to a back-up hard drive so they aren't cluttering your inbox and depleting your mental energy.
7. Toss old notes. Check to see what policies the publications you write for have for holding onto old notes. Some require three years, others longer. Once you've past the expiration date, shred them.
8. Update your LinkedIn profile. I interview recruiters all the time and one thing I hear a lot is you HAVE to be on LinkedIn. If you aren't, create an account and fill out your profile and work experience. If you have an existing LinkedIn profile, make sure it includes your most recent freelance gigs. It's also important to include skills and specialties, since publishers search for those terms when they're using the service to find writers.  Here's more on how writers can use LinkedIn.
9. Give your blog a makeover. Blog stuck in 2009? It's time for a makeover. Maybe all you need is a few new plugins to make it easier for readers to leave comments or subscribe to your blog feed. Maybe you  need a whole new look and feel. Here's a great list of WordPress themes, plugins and more.
10. Change your email signature. Got a new column, book or blog? Link to it from the signature you use on your outgoing email messages. Don't use an email signature? You should. Here's some tips for what to include in an email signature.
11. Update your headshot. Spring for professional photos if you can. If you can't, at the least change the photo you use on Twitter, LinkedIn, etc. Followers like it when people change up their online appearance. I just updated the photo I use on Twitter, Facebook and LinkedIn: what do you think?
12. Try a new social network. If you normally hang out on Facebook, sign up for Twitter, Google+, Tumblr, Storify, Pinterest or another social network. Not sure whether a new network is worth it? Read more about how writers can use Twitter, why you should check out Google+, how easy it is to get started on Tumblr or why writers need to use Pinterest.